A Matchmaker's Guide to The Best Date Locations in NYC
From first dates to fun, cute, and fancy date nights, New York is bursting with incredible locations and events to entertain. We are spoiled for choice in this great city, but that can often leave us struggling on where to go and what to do.
Choosing a place to take your date is almost as difficult as choosing what to watch on Netflix with them.
We've handpicked 50 of our favourite date ideas in New York and a few in Brooklyn. We have separated each idea into their own categories so you can explore what date ideas in NYC best suit your mood:
First date ideas in NYC
Date night ideas in NYC
Creative date ideas NYC
Cute date ideas NYC
Fun date ideas NYC
Over 50 dating ideas in NYC
Whatever you choose, be sure that your choice is right for the both of you. For example, skydiving as a first date idea in NYC may not be the most appropriate choice! Instead, try to think about date ideas that makes you both feel comfortable and then maybe you can explore the idea of skydiving after brunch at Kings.
First date ideas in NYC
First dates are all about getting to know the person sitting in front of you. Choosing somewhere where you're both comfortable is also preferred, so brunch, lunch, dinner and casual drinks are pretty popular choices. However, we've also included some active date ideas if you'd like to step it up a notch.
Coffee and Tiramisu at Via Quadronno
Nestled in the Upper East Side, Via Quadronno is a traditional cafe which offers New York's finest cappuccinos and panins. Ideal for getting to know your date over a coffee and a pastry.
Bonus date tip: Take a stroll through Central Park afterwards!
Visit Via Quadronno
2. Shuffleboard at Royal Palms
Where? Brooklyn
Yes, it's not technically in New York but this one is worth the small trip.
For sure a fun first date idea in NYC, you can't go wrong with Shuffleboard at Royal Palms. The biggest benefit is that it's appropriate for a first date in NYC as well as double dating and group gatherings. Even if you aren't great at Shuffleboard (I'm certainly not), this is a great ice-breaker date and is generally very relaxed. For sure a fun first date idea in NYC.
Bonus date tip: Once you've exhausted your Shuffleboard skills (or lack thereof), stroll over to Pig Beach for some amazing food.
3. Cocktail Making at Raine's Law Room
Where? Midtown Manhattan (The William)
Definitely one of the most interesting cocktail making establishments, Raines made a name for itself with their award-winning 90 minute cocktail making classes. Learn how to replicate their prized cocktails every Saturday and Sunday between 1-2:30pm.
Bonus date tip: If you're looking for a bite to eat after finishing the finest cocktails, Basta Pasta is located just across the street!
4. Drinks at The One Hotel in Dumbo
Where? Brooklyn Bridge
Designed by local artists using native greenery and reclaimed materials, urban nature meets fine dining at The One Hotel. I'd recommend booking dinner in advance, as this is one of the most popular skyline experiences. Whether you're meeting your first date for drinks or food, The One Hotel is primed for both.
Bonus date tip: Try out the Bamford Haybarn Spa, which includes a stunning range of holistic treatments and classes to help calm the body and awaken the mind. Ideal for a second date.
5. Cozymeal Cooking Class
Union Square Park Where?
Cooking classes will always be a fantastic idea for a first date. The fun and relaxing atmosphere is ideal for getting to know each other and discovering how well you work together! Plus, Cozymeal always boasts a great selection of verified chefs, so you can guarantee a quality class and meal every time.
This is one of my personal favourite first date ideas in NYC.
Bonus date tip: Try out the Bamford Haybarn Spa, which includes a stunning range of holistic treatments and classes to help calm the body and awaken the mind. Ideal for a second date.
Dates night ideas in NYC
Whether you prefer wining and dining atop New York's finest rooftop bars or testing your ping pong skills over at SPiN, New York has plenty of date night ideas to choose from.
Rooftop dining at The Fleur Room
Where? Chelsea
High rise dining at its best, The Fleur Room sits on Moxy's 35th floor and boasts stunning, panoramic views of the Manhattan skyline. The quirkiest feature of The Fleur Room is the button-activated views across the cityscape below, and the menu isn't too bad either!
Bonus date tip: Make an evening of this, settle down for a meal and a few drinks at the bar as you watch the sunset over Manhattan.
2. Get lost at the Snug Harbor Cultural Center
Staten Island Where?
Politely positioned just across the bay, the SHCC once used to be a home for retired sailors but has since been repurposed as a mixture of art galleries and beautiful gardens. I'd thoroughly recommend booking a day tour for $90 to fully appreciate its magnificence!
Bonus date tip: Be sure to visit the Chinese Scholar's Garden
3. Take a Helicopter ride at sunset
Where? Liberty Helicopters
Catching the sun setting over NYC is one thing, but having a tour of the skylines and cityscape below is absolutely breathtaking. Almost all helicopter city tours will hit iconic landmarks, including the World Trade Centre, Empire State Building, Brooklyn Bridge and the Statue of Liberty. You can also choose to fly by night and witness the twinkling lights of New York below.
Sightseeing Pass offers a fantastic touring service and operates throughout the day.
Bonus date tip: Book in advance as these tours are very popular!
4. Table tennis at SPiN
Flatiron Where?
Who doesn't like ping pong? SPiN features 15 olympic-sized tables and a quirky craft beer menu to compliment. The thinking behind SPiN was that alcohol and table tennis go hand-in-hand and they certainly do! They also offer a cool snack and drinks menu that I recommend you explore. SPiN is a very cool and place with college-esq vibes and suits any crowd.
Bonus date tip: SPiN is also co-owned by actor Susan Sarandon!
5. Castell Rooftop Lounge
Where? Midtown West
If you're looking for a date night in NYC with a Mad Men vibe, Castell will not fail to impress. Their cocktail menu places focus on the iconic Martini and its various incarnations and their Light Bites menu is the perfect complimenter. And if for some reason that isn't enough, you'll be blown away by the stunning city top views from their stunning rooftop gardens on the 40th floor.
Bonus date tip: If it's chilly outside, try to secure a seat next to their glass hearth.
Fun dates ideas in NYC
Now, fun is subjective, so what I may find fun may not appeal to someone else, so I've tried to gather a broad list of fun date ideas in NYC. Take a look below!
Explore the Met Museums
Where? Central Manhattan
New York has a wealth of stunning artwork for you to pereuse and I'd encourage you to explore the Met on Fifth Avenue, The Met Breur or the Met Cloisters. It's not 'just art' on display, each museum regularly rotates exhibitions, talks and wonderful tours that delve deeper into New York's history. Even if you aren't an avid museum-goer, this is a great date idea in NYC.
Bonus date tip: Separate exhibitions by going for a coffee or lunch in one of their cafes.
2. Kayak Across the Hudson
Where? Hudson River
Explore the Hudson and the surrounding city via kayak at Downtown Boathouse. The best part is that Downtown Boathouse offers free kayaking between May and October! They will also supply safety equipment (lifejackets, helmets etc) and a changing rooms and lockers to store your valuables.
Bonus date tip: It's free and an exciting date idea in NYC!
3. Ice Skating in Rockefeller Center
Rockefeller Center Where?
We all know that Rockerfeller Center is one of NYC's most celebrated attractions. In the winter, however, it becomes a Christmas tradition that everyone can enjoy and a fantastic fun date idea in NYC. You can choose between traditional skating and reversing a space in one of their exclusive wintertime experiences. You can reserve your tickets here.
Bonus date tip: Head over to one of the several fantastic eateries nearby, or eat in at the Rockefeller itself.
4. Central Park Carousel
Where? Central Park
Call me old fashioned, but taking a ride on the Central Park Carousel will always remain a traditionally fun date idea in NYC.
Bonus date tip: Get acquainted with Central Park and maybe pick up some coffee from one of the cafes in the area.
5. Spin the Disks at Tokyo Record Bar
Washington Square Park Where?
Fancy yourself a DJ? Well, it's time to prove it at Tokyo Record Bar. Here, you will be able to flaunt your incredible taste in music via the bar's 'make your own playlist' feature. You choose the soundtrack for the night and your date will sit and judge over some Japanese food and drink.
This one could go either way, let's just hope your taste in music isn't too bad…
Bonus date tip: While selecting your personal playlist for the night is great fun, don't miss out on their sensational Japanese cuisine.
Cute date ideas in NYC
For the romantics in us, I've selected five of my favourite cute date ideas in New York bound to strike the right chord for any couple whether you're on your first date or you've been together for years. Take a look at my choices below:
Brooklyn Botanic Gardens
Prospect Park, Brooklyn Where?
Yes, another Brooklyn date idea enters the fray! This time with their stunning Prospect Park. Great for simply meandering around and admiring the breathtaking scenery the park offers. Grab a coffee from a nearby cafe and take in the sights with your date.
Bonus date tip: Take a picnic to the park to obtain the ultimate cute date vibe.
2. Dine like a Royal at King
Where? Soho
Known for its Italian flair and finesse, King excels in offering a stunning Italian-inspired menu. King is filled with natural light and makes for a cosy getaway from the bustling cityscape outside. A cute, understated date idea for brunch, lunch and dinner. A strong candidate on all fronts.
Bonus date tip: If you're not too full and fancy a desert, DO Cookie Dough is a stone's throw away.
3. The View Restaurant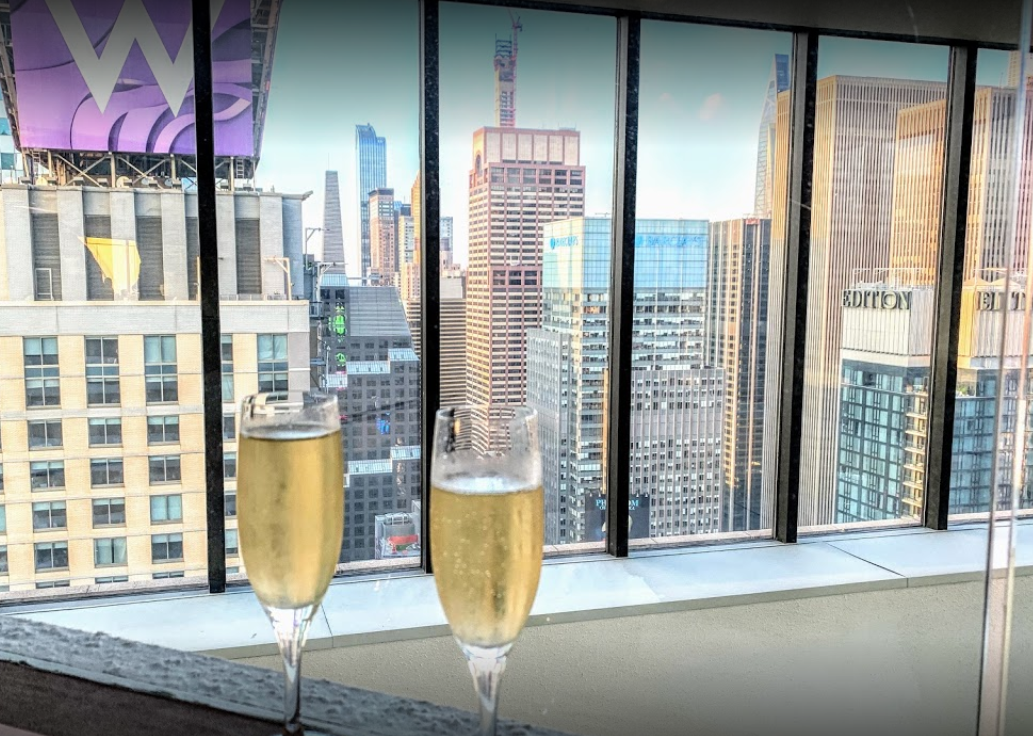 Where? Times Square, Midtown Manhattan
Welcome to NYC's only revolving restaurant. The View combines stunning high-rise dining with a quirky revelator setting where you're constantly on the move. Combine this with their mouth-watering a la carte menu and culinary excellence and you have the perfect date idea idea in NYC.
Bonus date tip: Do book in advance as you may not get a table on the night.
4. The Loeb Central Park Boathouse
Central Park Where?
If you're looking for traditional romance then The Loeb Boathouse is politely situated in the lake of Central Park. With a restaurant, outside bar and express cafe all overlooking the lakeside, cute date ideas in New York don't get better this.
Bonus date tip: Explore the surrounding scenery in Central Park and sit by the lake with a desert from the cafe.
5. Hudson River Museum
Yonkers Where?
Stargazing, a must in our list of cute date ideas in New York. The city actually boasts a variety of sky destinations and planetariums but I've chosen Hudson's Planetarium in Yonkers. Even if you aren't a fan of astrology, sitting back to witness immersive shows about time and space with your date is always a magical experience.
Bonus date tip: You can also book out the Planetarium for private events.
Creative date ideas in NYC
If you're looking for a unique or creative date in New York, you're actually spoiled for choice. From photography tours to painting classes, New York boasts an impressive list of creative date ideas. Take a look below what made my list:
Take a Painting Class
Upper West Side Where?
Painting classes are one of the best ways to get in touch with your creative side while socialising with your date. There are plenty of places across NYC to book a private session for you and your date, but I'd recommend The Art Studio NY on 96th street (UWS).
Bonus date tip: Grab a bite to eat at the Manhattan Diner next door to refuel!
2. Take a Photography Class
Central Park Where?
Explore the boundless scenery of Central Park while brushing up on your photography skills. this is a licensed guide hosted by a talented photographer who will show you the basics of photography and offer snippets of information about the history of the area you're photographing. Take a look at New York Photography Tours for more information.
Bonus date tip: Get a few nice shots of each other in the stunning scenery!
3. Tackle an Escape Room
Garment District Where?
Ever-growing in popularity, New York has several escape rooms for you and your date to tackle. Escape rooms are fantastic for team-building and finding out how well you work as a pair. Choose from a variety of themes to tailor the experience to your preferences.
Bonus date tip: Head over to Wok to Walk on 8th avenue for some delectable Asian cuisine after your code-breaking endeavours.
4. Board games at e's BAR
Upper West Side Where?
One for everyone! e's BAR has a huge collection of board games for adults to pursue over a cocktail and some good food. An electric atmosphere makes e's BAR an enjoyable and relaxed place to be. Ideal for first dates.
Bonus date tip: Don't get too competitive over Monopoly!
5. Play Tourists for a Day!
Anywhere! Where?
There's bound to be a place you haven't discovered in New York, so get your walking shoes on and go explore the stunning city around you! Whether you end up taking a walk in Central Park or going to a helicopter ride; get creative with your date ideas and make it a date to remember.
Bonus date tip: Try to have a rough idea of what you want to do and where you want to go, but enjoy the journey!
Date ideas for Couples Over 50
Whether you've been married for a long time or you're new to the over 50s dating scene, I've compiled a list of some of my favourite date ideas to help you pick the perfect date location!
Tour restaurants in an area of your choice
Anywhere with close-by restaurants Where?
This one is simple and great for exploring restaurants and bars you have never experienced. Tribeca is brimming with fantastic restaurants, including Racinnes (a delightful French bistro), and wander to The Wooly Public afterwards for some expertly-crafted cocktails.
Bonus date tip: You could make this a monthly or bi-monthly treat to keep exploring the great bars and restaurants New York has to offer.
2. Explore your nearest park or nature
Midtown Manhattan (Bryant Park) Where?
Central Park is the obvious choice if you're looking for a nature escape, but there are several other parks that rarely catch the limelight quite like Central. Bryant Park is a personal favourite, situated between 40th and 42nd Street, it's famous for hosting NYC's Fashion Week and is known for its seasonal ice-skating rink. It's also a lovely park for a quiet cup of tea and people-watching!
Bonus date tip: Why not make exploring new parks a weekly activity?
3. Visit the theatre
Anywhere in Midtown Manhattan Where?
I encourage everyone to experience the theatre, even if it may not be the first date idea that springs to mind. New York's theatres always boast a stunning selection of shows, The Book of Mormon, Hamilton and Wicked to name a few. Pick a theatre and set yourself down for a show of your choice.
Bonus date tip: Why not make exploring new parks a weekly activity?
4. Get active with a dance class
Midtown to Lower Manhattan Where?
Who doesn't love a dance class? An excellent over 50s date idea that offers you the chance to upstage your date or partner on the dance floor. Whether you're more into the Salsa, Swing or Ballroom, New York will have beginner dance classes suited to your needs.
Bonus date tip: Why not make exploring new parks a weekly activity?
5. Wine tasting at Hamptons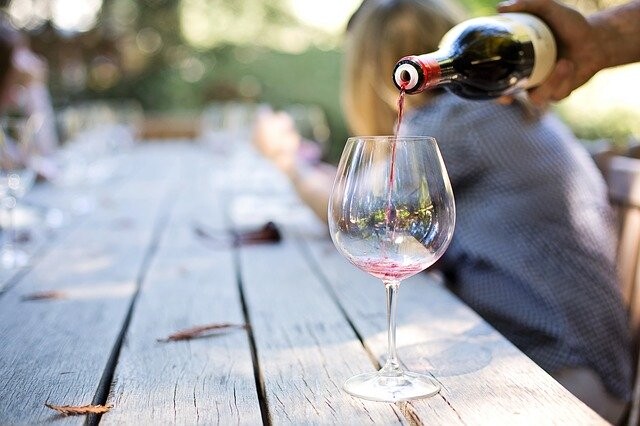 Where? Long Island
Only a short while away from Manhattan, but wine tasting at Hamptons is worth the short commute. I'd recommend the Sparkling Pointe Vineyards and Winery, it combines a fine selection of wines with a breathtaking location and an exceptional waiting service.
Bonus date tip: There is more than just wine tasting at Hamptons, you can explore the seaside towns of the Hamptons and shop at the Tanger Outlets.
Keep your relationship ticking and explore New York
That makes up my top date ideas in New York! Whether you're on your first date or you have been dating for a while, let this list serve as inspiration whenever you're struggling to think of a new date idea. Whether you've been with your partner for five minutes or five years, you should always be looking for fun and unique date ideas in NYC to keep each other guessing!
I have actually written an article on the 7 Simple Relationship Goals that Guarantee Lasting Love to help solidify your relationship and set new goals to achieve.