The City of Angels is famed for its relationship with Hollywood, Mulholland Drive and Sunset Boulevard. It's no wonder single men and women still have a fascination with this culturally diverse and iconic city. As international matchmakers who cover LA, we know a thing or two about what dating is like in Los Angeles, the best dating spots and how to help achieve that perfect first impression.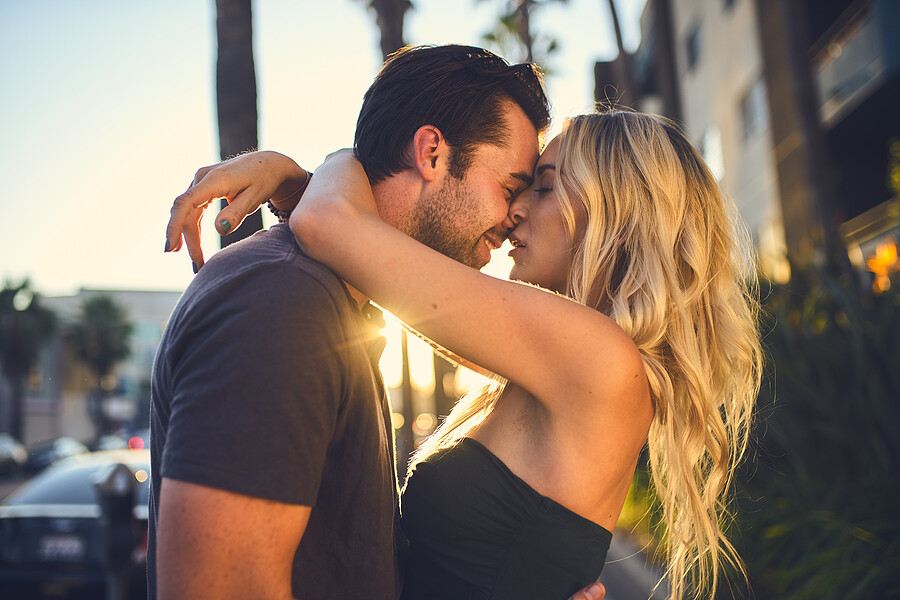 What's Dating in Los Angeles Actually Like?
LA's a big city, it's the second biggest city in America. However, while there are advantages of being a large, culturally diverse and vibrant city (56% of LA being single), in a city this big and busy it's easy to become lost looking for love. Sure, securing a date isn't necessarily too difficult, but LA's glitz and glam lifestyle means that many people end up bouncing around dates and never settling. While this might be okay for some, it leaves little to be desired for those looking for a long-term, meaningful relationship in The City of Angels.
Where to Meet Someone in LA
Los Angeles's requirements for dating are the same as anywhere else in the world, you need to put yourself out there. Whether that's through dating apps, visiting singles bars, meeting people through mutual friends or considering a more specialized approach; if you're not somewhere, you're not anywhere.
The first step is to know the best spots to meet and socialize with singles in LA. Some places are better tailored for casual dating, and others are more relationship-focused. Not sure how to tell the difference? Well, heading to a buzzing bar with a busy atmosphere so you can't hear each other talk doesn't allow for a free-flowing conversation platform – which is essential for a first date. This date idea would be better for someone looking for a more casual date. A coffee at the Alchemist CP or dinner with a view at Perch offers a much better foundation for conversation and getting to know someone.
For single men and women looking for the best dating spots in LA to develop long-term relationships, the following have been selected based on the following criteria:
Fun and conversational atmosphere
Attractive venue and overall aesthetic
Sociable and easy to mix with singletons
Good selection of drinks and nibbles
We covered our best dating bars in LA and the most romantic things to do in LA but if you're simply looking for a more general overview on the best date spots in Los Angeles, here are our top picks:
Perch – 7929 Santa Monica Blvd, West Hollywood, CA 90046
Bigfoot West – in 1933 Group – 10939 Venice Blvd., Los Angeles, CA 90034
Black Market – 2060 Sawtelle Blvd, Los Angeles, CA 90025
Shutters on the Beach – 1 Pico Blvd, Santa Monica, CA 90405 (we know this one's in Santa Monica!)
71Above – 633 W 5th St 71st floor, Los Angeles, CA 90071
WP24 by Wolfgang Puck – The Ritz-Carlton, 900 W Olympic Blvd, Los Angeles, CA 90015The Best Dating Spots in Los Angeles
With so many choices, narrowing down the best dating spots in LA can become quite a struggle, which is why we've handpicked some of our favorite areas. These ideas are ideal for any relationship stage:
Visit the Griffith Park Observatory
Experience One of LA's Candlelight Concerts
A Sleek and Suave Night at Sorriso
Marvel at the Korean Bell of Friendship Sunset
Take a Walk Through The Huntington Gardens
Cruise Along Mulholland Drive
Escape to Shutters on the Beach
Marvel at Yayoi Kusama's Mesmerizing 'Infinity Mirrored Rooms'
Dine at the Michelin Starred Hippo
Head to the La La Land Jazz Cafe
What's it Like for Over 40s Dating in LA?
LA is known as a city full of the young and aspirational, those looking to climb the career ladder and date like there's no tomorrow, but what about those looking for something more serious?
What's dating for over 40s really like in LA?
Not only are you blessed with some of the best dating spots in LA but singles in their 40s are less likely to mess you around. This is the age where most people are looking for something more serious than a fling. There's less drama and more straightforward conversations, the key is confidence and putting yourself out there. Say hi to someone at a cafe, try out a dating app or if you don't have time, you might want to try a completely personalised and bespoke approach to dating in Los Angeles.
LA presents a fantastic platform for over 40's looking to meet singletons with long-term relationships in mind. Again, you just need to put yourself out there and experiment!
Why is Dating in Los Angeles So Hard?
It's not uncommon to find dating in Los Angeles frustrating or difficult. Being a city renowned for celebrity culture, vibrant nightlife and Hollywood, the demographic of single people is typically very young or dedicated to their careers. This might sound as though it leaves little scope for people looking for genuine, long-term connections.
So, how do you cut through the noise in a city as busy and big as LA? A popular solution is online dating or dating apps. It's easy to download Hinge, Bumble or Tinder to match and meet people quickly, but the chances of finding a genuine connection are unfortunately low, with 56% of adults adopting the view that dating apps and online dating services are somewhat or very negative. For younger people looking for more casual relationships, Los Angeles certainly caters to this demographic too.
However, for LA singles looking to form genuine, long-lasting connections and relationships with like-minded people, you may need to consider a more specialized approach.
Our Solution for LA Singles
Our private network has over 10,000 exceptional singles, selected by our award-winning matchmakers based on cultural, academic, travel and career achievements. We know how difficult it can be to find the time, let alone the right people to date in LA and our service provides a solution to this.
Our process is based on psychology-led compatibility profiling, a process which has been specifically and meticulously designed to understand who you are and what type of person you're looking for. You will be assigned your dedicated matchmaker, who will ask you a series of questions, covering your religious beliefs, past relationships, family and your long-term relationship goals. Our process is designed to help LA singles hone in on what they truly want out of a relationship – then make it happen.
Dating in Los Angeles Made Easy
Whether you've been out of the dating scene for a while and struggling with confidence issues or your journey to finding love in The City of Angels has stalled, our personalized and award-winning matchmaking service puts you back in control of your dating life.
To begin your matchmaking journey or simply discuss your options, call our friendly team today.