LA, the City of Angels, is known for its stunning beaches, dazzling TV and music industry and of course, the glitz and glamor of Hollywood. You are at the epicenter of entertainment, celebrity culture and diversity. But what is it really like being single in one of the most famous cities in the world?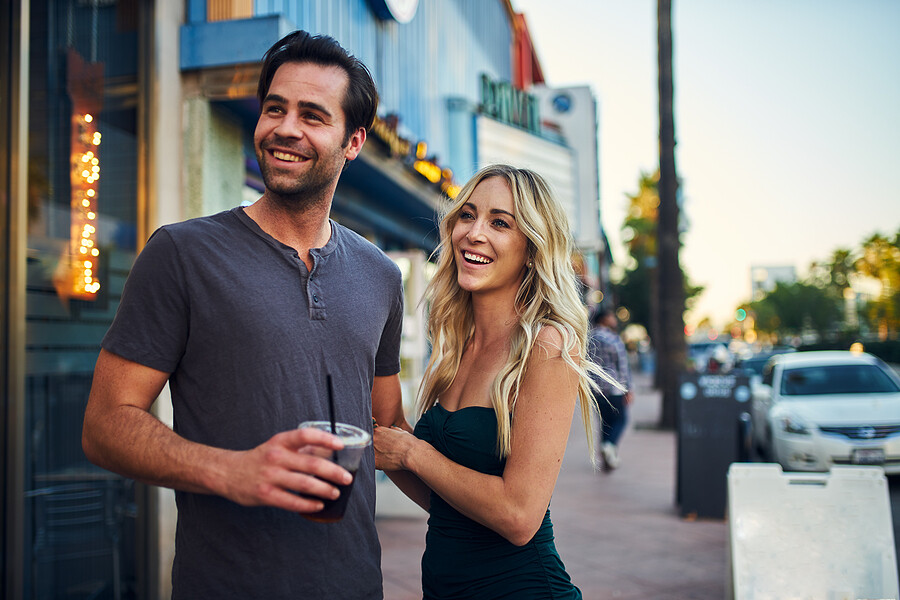 What's it Like Being Single in Los Angeles?
Being the second-largest city in America, LA isn't a bad place to live if you're single.
However, it's not just the sheer number of people in LA which makes dating accessible and enjoyable, the city itself is a melting pot of culture and entertainment. From Santa Monica's warm and inviting community to the world-class food and nightlife in Ocean Park. Being single in LA is certainly one of the more desirable places to start your journey to finding love.
When it comes to dating, you're spoiled for venues and activities. However, despite nearly 56% of LA being single (unmarried or divorced), there's still a lot of competition in such a bustling city. Some people are surprised to hear that LA has more single people than New York.
To make the most of being single in LA, you will have to be prepared to put yourself out there. LA is a big city and it can become tiring hopping onto the 101 to get to a date that may not lead anywhere – we know how disheartening and even frustrating this can be. Living in one of LA's more single-dominated areas (like Downtown LA, Ocean Park and Venice) can help increase your odds but for a more tailored and empathetic approach to finding love in LA, that's where we can help.
However, when it comes to striking that perfect first impression, knowing where to go can play a big part in that. Los Angeles is blessed with a myriad of quirky bars and restaurants for first dates. As professional matchmakers, it's our job to identify the best bars for LA singles to spark that memorable introduction.
The 4 Best Bars for Meeting Los Angeles Singles
An essential part of our role is to identify the perfect settings to create perfect introductions and first impressions for our clients and their first dates. First impressions are key in any context, but especially first dates. Sure, striking that flawless first impression doesn't solely rely on location but it can become a crucial catalyst for comfortable and free-flowing conversation.
Below are some of our favorite bars for LA singles, selected for their exceptional first date atmosphere, decor as well as cocktail and food menus.
We're extremely picky when it comes to selecting the finest bars because we know how important first impressions can be.
Genever
Genever is one of LA's best-known bars that are shockingly easy to miss. Tucked away with nothing but a coupe-glass sign subtly illuminating the entrance, Genever presents an intimate, Filipina Art Deco-esque setting. As you enter, you are greeted by the delicately gold-accented decor, emitting a warm and inviting atmosphere. Genever has developed a strong reputation for being one of the growing numbers of women-owned and operated bars in the US and their gin concoctions, which would sway even the most gin-averse clientele.
The infused juniper libations here simply cannot be missed, the perfect pairing of green tea and tropical fruits creates a stunningly complex, yet light finish. Mezcal and rum also make an appearance in Genever's cocktail menu but it is unfortunately vastly overshadowed by the gin concoctions on offer.
Melody
An elegant white patio, an ever-changing organic wine list and quirky food pop-ups make Melody one of the coolest up-and-coming bar restaurants in LA.
Melody evokes a "lazy French" decor with a focus on supporting small-producer organic wines, oysters and a classy dinner and brunch menu. For an off-the-cuff evening of fine dining with your significant other and to experience some of LA's newest and most innovative culinary concepts, Melody hits the mark every time.
Be sure to take a look on their website if there are any events on the night you plan to go, as it may disrupt your first date vibe if you book a table only to be greeted with a raucous DJ set.
Everson Royce Bar
Everson Royce Bar is a bar that's pretty hard to miss. As you approach its doors, you are greeted with a neon sign that just says "BAR", so you know you're in the right place. Their tagline "My, that's better" is the second sign you will see as you step into ERB's decadent den, which is nestled inside the Arts District.
The setting does remarkably well in combining the suave nuances of an elegant cocktail cove with a bustling patio party. For those looking for a mix of intimacy that may break out into song and dance, ERB excels in both categories.
We can't talk about ERB without mentioning their cocktails. We'd personally recommend the Yo LA Tengo, a funky fusion of Aperol, mezcal, grapefruit, ginger and a squeeze of lime, ideal for a refreshing summer pick-me-up. Pair this with their quirky selection of bar bites to complete a cool and casual date night in LA's Art District.
The Spare Room
Hiding within Hollywood Boulevard's bustling cityscape is The Spare Room, one of the most refined cocktail bars in LA. Make your way inside Hollywood Roosevelt to discover this hidden gem, specializing in classic cocktails with a modern spin, curated by the exemplary Yael Vengroff and her team of marvelous mixologists.
The scene here is comfortable yet sophisticated. However, Monday night is where the exclusive bowling league competes, so if you're looking for a more intimate date, you may want to select a different day. The Spare Room is one of those rare LA bars that successfully blends intimacy with entertainment – so it is ideal for first dates.
When it comes to their cocktails, we'd recommend The Bikini Kill, made with passion fruit, Campari, Velvet Falernum, honey and of course, lemon. Vengroff's ability to fat-wash the vodka with coconut oil gives The Bikini Kill its silky, dry finish.
Are You Looking to Share These Experiences With Someone?
Being single in a city as vibrant, beautiful and diverse as LA has its benefits, but it's also easy to feel lost in The City of Angels. That's where we come in. Our team of experienced and award-winning matchmakers know this city inside and out and has years of experience arranging tailored meet-ups for exceptional single men and women across LA.
We offer exclusive, private memberships to our clients, enabling them to meet like-minded people from LA or anywhere across the globe. Your journey begins with a private consultation with your personally-assigned matchmaker. You will discuss your past relationships, core principles, religious beliefs and what the perfect partner looks like to you. The more honest and transparent you are with your matchmaker, the more accurate your matches will be.
To learn more about our process or to discuss your membership options today, please get in touch and we will get back to you.