Calabra
Dating on the Westside has lots of options and with its luxurious Mediterranean vibe and poolside lounge, Calabra is up there on our list of best places for a date in Santa Monica. Close enough to the Santa Monica Pier for a stroll but tucked atop the trendy strip, this is a great choice for an upscale date where chic and authentic style is topnotch. Located in the Proper Hotel, one of our favorite hotel groups, the amazing. You can have drinks, enjoy a meal, order tapas in the lounge, or dip your feet in the pool while getting to know your date better.
Ester's
What started as a "let's see what happens" trendy opening by the famed Rustic Canyon group in Santa Monica, turned out to be a star staple for wine tasting, sharing charcuturie boards, and yes, first dates. The mood is right and while it's really popular with the Santa Monica crowd, getting a seat at the bar or a table usually isn't a full time job. Ester's also serves up some great traditional LA mixology cocktails and has moved into satisfying their often millennial clientele's taste for farm-to-glass and vegan spirits. The choices are upscale but the mood is casual and very "from Santa Monica".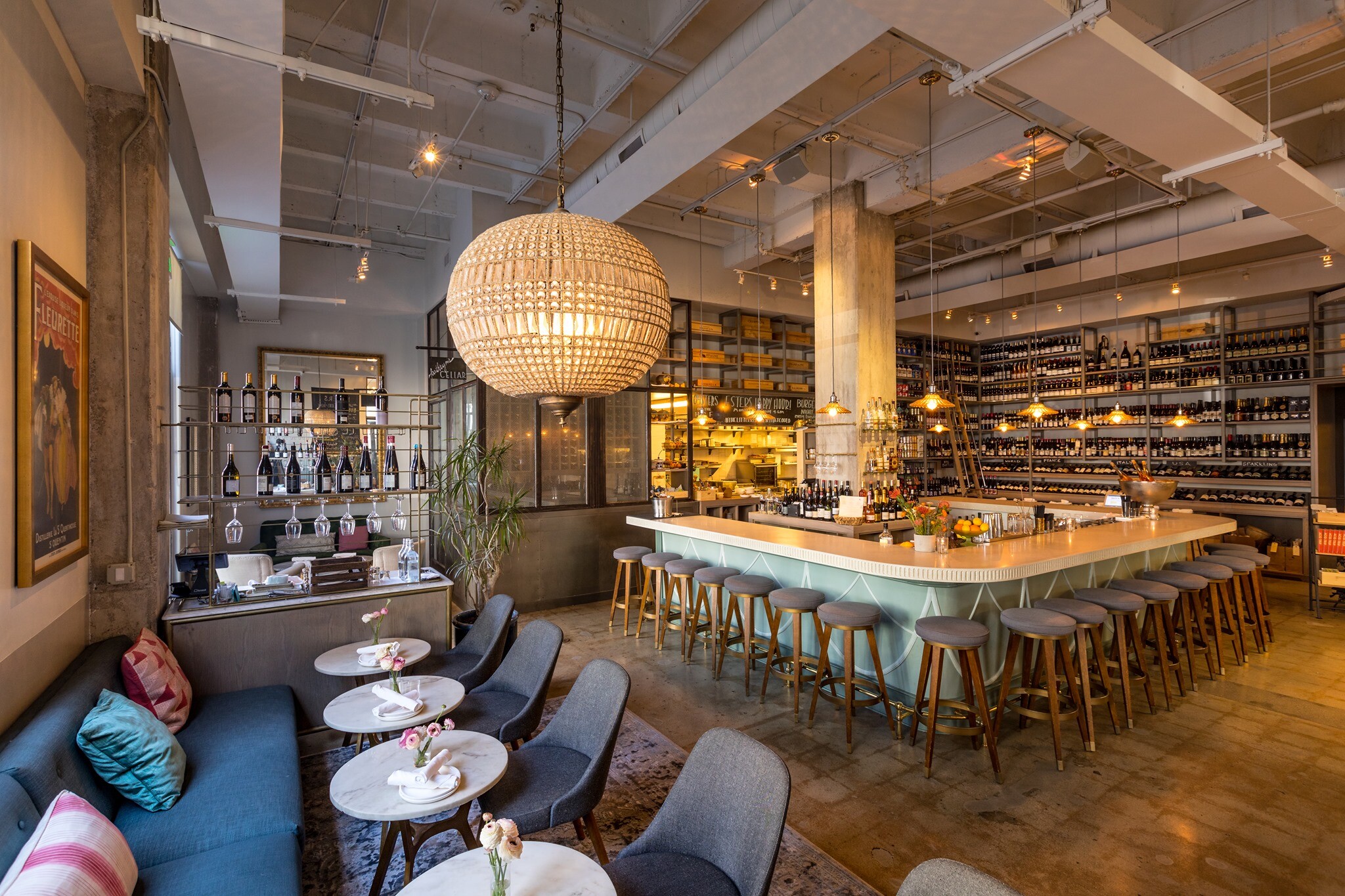 Stella Barra
Pizza might not be the first thing that comes to mind when you're planning a date and we don't blame you. However, sometimes you need a date choice that comes with ambiance and will keep the dinner conversation going because of the hustle and bustle happening around you – and, Stella Barra happens to serve some pretty great artisinal, organic pizza. Their menu is innovative and there's a lot more than pizza here. So when you're in the mood for a place that isn't stuffy or too fancy, that will deliver on service, mood and taste, and want to come off as knowing the area like a Santa Monica local, Stella Barra is the place.
Viceroy
The Viceroy in Santa Monica is glamorous, it's a pool scene, it's a retro art deco vibing style, it's a boutique hotel but with lots of rooms and you imght bump into a who's-who while you're there. Sometimes it feels like Palm Springs, sometimes it feels East Coast, it always feel chic and summery. You can just pop-in for drinks at the bar but you'll need to reserve if you want a poolside cabana. There's something just wonderfully romantic about having your own luxurious space to spread out, order food and drinks and enjoy being out but with some privacy. It's a great place for a first date if you want to impress.
www.viceroyhotelsandresorts.com
Citrin
A new incarnation from Michelin-starred Chef Josiah Citrin is carved out of the famed Melisse. Citrin is the more casual interpretation of the quintessential and exquisite Santa Monica date spot, but the quality is at par with Melisse. The food is to die for – an art. If you want to impress your date with a great dinner date, you'll have to plan ahead – both restaurants need reservations and some flexibility in going with what's available. Totally worth it though!
Looking for better dates and the best date spot ideas? Maclynn is a boutique, multi-award-winning introductions agency with offices in New York, New Jersey, California and London. Our dating experts are world-renowned for bringing together highly compatible singles within our vast network of attractive, intelligent professionals, as well as help you plan the very best dates. Get in touch today, and prepare for genuinely meaningful dating—just like you deserve.