New York City is one of the most influential cities in the world. With a rich history, soaring skyscrapers, celebrated landmarks, and iconic museums and theaters, New York is a must-visit any time of the year.
As the to-do list for visitors and residents of the Big Apple is ever-growing, how will you ever know which experiences are the absolute cream of the crop? For the dynamic duos and partners in crime who want that extra special getaway, to those exploring a fresh-faced relationship looking for the perfect third date spot, New York delivers in every possible way.
---
The Best Things To Do In New York City
You could live in New York for 100 years and still not have experienced everything it has to offer. Our guide pinpoints the very best things to do in New York City.
The Ultimate Summit One Vanderbilt Experience
This heart-pounding experience at Summit One Vanderbilt sits upon the 67-floor 1,401-foot tall skyscraper – One Vanderbilt. This out-of-this-world attraction is practically inter-dimensional. Experience a completely mirrored infinity room called "Air" which reflects mesmerizing views of the sky and the city.
Besides the awe-inspiring views of the city, you can also experience a thrilling elevator ride via "Ascent" – the world's largest external glass-bottomed elevator. This hair-raising ride will travel up the outside of the building to 1,210 feet, with the Ultimate Experience also granting access to exclusive food & signature cocktails.
Get your tickets for Summit One Vanderbilt
Go Wine Tasting in Style Via a VIP Hudson Valley Helicopter Vineyard Tour
A truly luxurious way to spend a day in New York for any wine-enthusiastic couple, this exclusive helicopter tour of the prestigious Hudson Valley vineyard offers scenic views, tastings of delectable wines, and beautiful food. Begin your filled-to-the-brim day with a stunning helicopter journey from Manhattan towards the verdant rolling hills of Hudson Valley.
From landing upon the vineyard property, you will learn about the processes behind winemaking, tour the grounds, and enjoy a perfectly prepared lunch complete with beautiful wine pairings.
Secure your spot for the VIP Hudson Valley Vineyard Tour
Sky-high Champagne at The Edge
The Edge is a triangular viewing platform where you can peer down on New Yorkers below and take in the breathtaking panoramic views of the beautiful city. Also known as the tallest man-made viewing deck in the Western Hemisphere, the Edge offers 7,500 feet of unenclosed outdoor space high up in the sky.
A stunning Champagne bar awaits your arrival on the 100th floor. Here, you can sip cocktails with jaw-dropping panoramic views of New York. We recommend coming as the sunset lights up the sky over the city, plunging the city into darkness as you watch the twinkling lights brighten up the city like stars. Absolutely perfect!
VIP Helicopter Flight and Liberty Cruise
The very best helicopter rides take place after dark, where you can fly over the Big Apple and view the city in all its glistening splendor – the perfect way to see all the iconic sights in one easy package.
See Central Park, the Hudson River, the Statue of Liberty, and the Brooklyn Bridge in an astonishing new perspective. The view of the Statue of Liberty is so much better when seen from above rather than within. This package is simply perfect and, to top it all off, make sure to clink your champagne flutes during your 45-minute guided cruise along New York harbor.
---
Fun Things To Do In New York
Not only are there world-leading museums, attractions seen in every movie, and bars that would convince the overturning of prohibition, but New York plays host to some truly amazing events throughout the year.
Below, you'll find a curated list of the most fun things to do in New York with your partner to help you both discover what's really happening in the city.
Explore the Vibrant Chinatown
Chinatown is one of the iconic neighborhoods that make lower Manhattan so unforgettable. From the moment you surface from the Canal Street subway and onto the sidewalk, you'll be surrounded by neon light shops, independent peddlers, and thick crowds piling into renowned restaurants, bakeries, and more.
Chinatown has a rich history, and there's a mountain of experiences for everyone to enjoy. From trying out the delicious street-style food from Wah Fung No.1 to learning more about the intriguing past of the area at the Museum of Chinese in America, Chinatown isn't one to skip out on with your partner.
Browse Stunning Contemporary Art at MoMA
You don't have to be a lover of fine art to appreciate what's on offer at the Museum of Modern Art. Not only does this airy gallery host some of the most significant contemporary pieces, but it also doubles as a shrine of pop culture and 20th-century history.
From the iconic Starry Night by Picasso and Warhol's Campbell's Soup Cans to Dalí's Persistence of Memory and Monet's Water Lilies, the Museum of Modern Art is a must-visit for any couple looking to expand their artistic horizons.
Lose your Inhibitions at Ms Kim's Karaoke Lounge
Ms Kim's is a fabulous K-town karaoke lounge which was started by Korean beauty entrepreneur – Anna Kim. This glamorous karaoke bar combines sophisticated and stylish aesthetics with song-alongs! Whether you have angelic vocals, or perhaps the complete opposite, soundproof karaoke rooms ensure your experience remains private.
Additionally, the lounge has some delicious finger foods and signature drinks with butterfly pea flowers, herbal syrups, top-shelf spirits, and other unique ingredients to make your time here unforgettable.
Feast and Explore at Chelsea Market
Chelsea Market is one of New York's most notable food halls. Hosting more than 35 vendors all selling wildly varying cuisines, independently made jewelry and clothes, and even flogging some vintage Haute Couture garments, this is a hot spot for foodies, shopping enthusiasts, and anyone looking to sink hours into exploring something new.
We recommend coming here just before lunch, this way, you can try delicious samples and perhaps procure a unique gift for your date.
Discover Hidden Gems in Bedford Avenue, Williamsburg
Bedford Avenue has it all. From sipping iced coffee on a laid-back walk through McCarren Park to catching an indie show at Baby's All Right, this is the busiest thoroughfare in the hip Williamsburg – and for good reason. Not only that, but the L train that feeds it may as well be North Brooklyn's own personal people-watching catwalk – perhaps for some high-fashion style inspo, or simply to watch the dogs with miniature rain boots pass you by.
As you make your way south, likely en route from the East Village, you'll pass local businesses from vintage-inspired jewelry to beautiful libraries stocked with poetry, special designs, and cookbooks. Bedford Avenue isn't one to miss, and is certainly one to make your new haunt.
Get Lost in Central Park
With more than 20 playgrounds, 48 fountains, monuments or sculptures, and 30 bridges, Central Park is absolutely massive. This part-park, part-museum, part-concert hall is full of opportunities for fun, leaving a positive impression on almost every visitor, all with unique experiences every time.
Whether you choose to simply grab a coffee from a nearby coffee shop and go for a walk, opt for a stunning private picnic, or visit the zoo, this 843-acre green space is an all-time favorite of locals and tourists alike.
---
Special Things To Do In New York
New York has a bounty of activities that are not only uniquely New York, but they make for some truly spectacular memories that will last a lifetime. Whether you're bringing in the New Year with someone special, or you're looking for that out-of-this-world romantic restaurant to pop the question, our list below has you covered.
Bring in the New Year Aboard Cloud Nine IV
Aboard the Cloud Nine IV, you're in for a spectacular night of fireworks, delectable cuisine, and fantastic drinks – the perfect combination for bringing in the New Year in style at sea.
Tour the magnificent New York skyline in all its unsurpassed style, and dance the night away with your partner and friends on the onboard dance floor. Conclude your night of drinks, dancing, and food with a fantastical fireworks display to bring the year to a close and welcome the new year in the best way possible.
Book your spot aboard Cloud 9 IV
Enjoy a Special Night at Fraunces Piano Bar
The beautifully decorated intimate room above The Independence Bar is the perfect setting for a romantic night you'll both remember. Choose from a fabulous selection of beers, wines, gins, and a generous selection of cocktails to go alongside your apps and entrees.
Cerulean paneled walls, pops of color on tufted red banquettes and gilded picture frames, all with a wonderful piano accompaniment throughout your night, the Fraunces piano bar is the perfect background for an intimate date night or to celebrate an anniversary in style.
Board a Delectable Dinner Cruise
As long as you've got the stomach for it, a romantic dinner cruise may be just the thing to celebrate a special occasion. Offering sweeping views of the romantic city skyline accompanied by delicious food to enjoy, these cruises are the perfect way to celebrate in style.
Whether it's a birthday or anniversary, or you're thinking of popping the question, there's a wide number of operators to choose from all with their own unique menus and itineraries which are certain to make your night unforgettable.
---
Things to Do In New York At Night
While there are plenty of things to do in New York City during the day, the city that never sleeps really comes alive at night. From gazing at the glittering city lights from far above to discovering hidden cocktail bars below, there's no shortage of romantic things to do in New York at night.
Empire State Building All-Access Tour with Champagne
The most premium package to truly experience the Empire State Building in all its glory, the ESB All-Access Tour ensures guests are truly pampered during their journey discovering the magic of this classic landmark.
Stepping through the building's private entrance into the celebrity green room, the perfect setting to celebrate any occasion in style, guests are lavished with snacks, beverages, and a bottle of champagne upon their arrival.
The star treatment doesn't end there – once you're ready you'll be treated to an extra special guided tour; making sure you skip the busy lines on your voyage to the very top where New York's most famous panoramic view awaits.
Make sure to visit at night, as the sparkling city lights 1250 feet below are reminiscent of the stars above. Combined with a perfectly chilled glass of Champagne, this truly is the best way to experience this iconic landmark with your partner.
Discover the ESB All-Access Tour
Enjoy a Sky-High Tipple at Harriet's Rooftop
We love getting a view of New York from above. The glitz and the glamor displayed in all its grandeur is one of life's simple luxuries – but how could this be made better? With a delicious cocktail in hand, of course.
The stunning panoramic views of the sprawling New York cityscape become even sweeter when viewed at dusk from the stunning top-floor bar of 1 Hotel in Brooklyn. Harriet's Rooftop and Lounge have absolutely gorgeous views of the Brooklyn Bridge and the absolutely romantic city skyline beyond. It is the perfect backdrop for a wonderful cocktail-fuelled date night.
Book your table for Harriet's Rooftop
Party at R Lounge During the Ball Drop in Times Square
Create once-in-a-lifetime memories and experience the most stylish way of celebrating New Years. Revel in the most luxurious party of the year during the New Years Gala at R Lounge. This is an exclusive party surrounded by stunning panoramic windows in Times Square to watch the spectacular ball drop in all its splendor.
This refreshing and chic venue is the place to be with your partner at New Years. Enjoy unobstructed views of the main event with lavish hors d'oeuvres, food stations, sumptuous desserts, an open bar only stocking premium labels, and the very best live entertainment with dancing making for a night to remember.
Book your place at the R Lounge
Enjoy Dinner With a View at One World Observatory
Boasting a seasonally-inspired a la carte menu complemented by small-production wines, local beers, and craft cocktails, ONE Dine, which sits on the 101st floor of One World Observatory, is the perfect way to conclude an evening at the Observatory itself.
We recommend opting for the all-inclusive dining experience which ensures you receive a table at the restaurant's premium windows which complements your dining experience with the very best views in New York.
Brave the Coasters at Coney Island's Luna Park
An attraction beloved by families, couples, and tourists alike, Luna Park at Coney Island is a spot which offers a plethora of delights to those looking for a thrilling day out. With high-speed rides and heart-pumping coasters, there are more than 40 rides and attractions to choose from.
Visiting at night ensures you get the best experience. Neon lights, carnivalesque music, and the smell of amusement park-style food fill the atmosphere making for a night to remember. Luna Park also boasts a handful of midway games, souvenir stores, and carnival-style eateries to break your diet with – just make sure to win your partner a giant stuffed animal from a claw machine.
Catch a Jaw-Dropping Drag Show at Barracuda Lounge
This classic, no-attitude gay lounge in Chelsea has been a New York staple for years. Boasting cozy couches, fantastic drag shows, generous happy hours, and friendly bartenders, Barracuda is a must-visit for a great night on the town.
Touted as a "founding mother of drag in New York City", the Barracuda Lounge in Chelsea is one of the first queer NYC venues to feature drag shows every night of the week – and not just on weekends.
Some of the best drag in the world have come out of Barracuda, and you can always expect a spectacular show every day of the week. Whether legends from RuPaul's Drag Race have been booked for the night or you're going to support more local drag artists, you're always in for a fabulous show.
---
Unique Things To Do In New York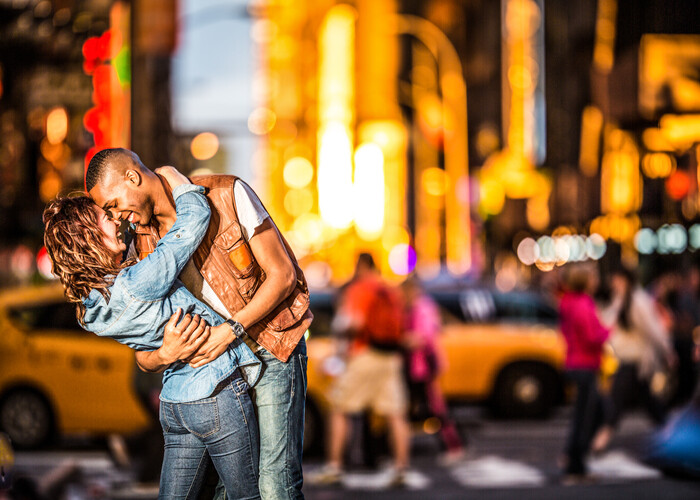 Perhaps you don't want to see the sights because they're so overdone, or perhaps you've lived here for a while and have run out of ideas for things to do. Thankfully, we've got your back.
Whether you're itching to get out of your local neighborhood, or you're new to the area and looking for something more exciting, check out our selection of the best unique things to do in New York.
Keep it Smooth With a Romantic Night Time Jazz Cruise
Cruise along New York City's harbor aboard the iconic 1920s-style yacht, the Manhattan, whilst being serenaded by live jazz music on a 1.5 hour cruise. This activity makes for a truly beautiful evening as you sit back and enjoy the stunning skyline views with a live accompaniment of jazz.
From classic tunes to jazzical twists on contemporary singles, enjoy this magnificently romantic cruise with your partner in one arm and a complimentary alcoholic drink in the other as you witness the iconic buildings and sights literally float by.
Whether you choose to perch yourselves within the climate-controlled sky-lit solarium or the stunningly decorated outdoor areas, this evening jazz cruise upon the Yacht Manhattan is well worth it for the breathtaking views alone.
Learn more about the Evening Jazz Cruise on the Yacht Manhattan
Try Oysters at Grand Central Oyster Bar
Who would have thought that some of the freshest seafood and oysters were available at a subterranean restaurant in Grand Central Station?
Dating all the way back to 1913, the Grand Central Oyster Bar is the oldest, and most renowned, restaurant in Grand Central Terminal.
Serving over 15 varieties of the freshest oysters and seafood in New York, sourced from local purveyors across the Northeast, make sure to pair your oysters with choices from their extensive wine list, one which has over 250 wines by the glass or bottle. Just make sure to opt for at least one of their legendary martinis.
Book your table at the Grand Central Oyster Bar
Discover the Exclusive PDT Speakeasy Bar
Ironically, compared to the days of prohibition when elusiveness was required, this speakeasy is famed the world over for its concealed location. Nestled away inside a hotdog shop and through a telephone booth, PDT is a classically-inspired speakeasy which first opened in 2007.
Once within, you'll notice a distinct aesthetic as comfy and cozy as a winter cabin. The drinks here are top-notch, too, with a fantastic team of barkeeps providing thoughtful cocktail creations and Haute-dogs procured from next door.
---
Romantic Things To Do In New York
New York is one of the most romantic places on the planet. With a beautiful skyline glistening like a galaxy full of stars to beautiful parks just perfect for a hand-in-hand stroll with your significant other, there is an extensive list of ways to woo your sweetheart in this city.
From delectable cuisine to refined art-filled evenings, these romantic things to do are certain to stoke the flames of love.
A Triple-Michelin Journey at Masa
Out of the ever-growing list of stunning New York restaurants, one of our absolute favorites is Masa. Offering what can only be described as the continent's best sushi, unsurpassed attention to detail is what has rightfully awarded Masa a glorious three Michelin stars.
From the heavy wooden door, all the way to the bill, everything holds a certain weight. From the moment you enter, you know exactly what you're in for. With elegance and grace, discover chef Masa Takayama's exclusive omakase.
Get Romantic at The Met's Date Nights
The perfect way to spend an evening with your partner, the new "date nights" at The Metropolitan Museum of Art grant visitors the opportunity to become acquainted with some of the most famous works of art on the planet.
Learn the history within these pieces and explore beautiful exhibitions with informal drop-in gallery chats and the chance to listen to beautiful accompanying live music, all whilst sipping on cocktails. What a cultural and refined way to spend an evening.
Find out more about Date Night at The Met
Discover Contemporary Elegance at Eleven Madison Park
Are you looking for more of a contemporary and innovative experience, you'll be hard-pressed to find better than Eleven Madison Park. Owing to its Michelin stars for its exceptional cuisine, modern elegance, and masterful precision, this is well worth the journey for an unforgettable date night.
A bold vision of luxury dining, discover this temple of modern elegance and witness a zealous dedication to mastery over precision.
Go Ice Skating at the Rockefeller Center
If you're visiting during the holidays, one of the most romantic things to do in New York is to go ice skating at the Rockefeller Center. This legendary ice skating rink has been a staple of the New York holiday season since 1936 and is a must-visit for a romantic date.
Not only is the area surrounding the ice rink beautifully decorated with giant nutcrackers, baubles, and twinkling lights, but ice skating under the gaze of the iconic Rockefeller Christmas tree is simply a memory you will never forget.
If you're looking to up the romance, this quintessential romantic New York holiday activity is even more gorgeous at night. What could be better than skating hand-in-hand with your love surrounded by stunning twinkling lights?
Get your tickets for the Rockefeller Ice Rink
Fairy-Lit Cocktails at the Broken Shaker
Located near the Flatiron Building, discover a rooftop oasis with stunning sweeping views of the city. Within a fairy-lit indoor-outdoor space, enjoy a delectable selection of expertly crafted cocktails containing elixirs, syrups and infusions, all paired with fragrant herbs, fresh-pressed juices and exotic ingredients from around the world.
Not only is it the ideal spot for the beginnings of any romantic date night, but you could make this fantastic bar your base for the night. The Broken Shaker is ideal for winding away the hours with fabulous cocktails and flowing conversation.
Book your spot at the Broken Shaker
Step Back in Time at The Cloisters
A beautiful installation brought to you by the Metropolitan Museum of Art, The Cloisters is a stunning setting for a romantic date as it is devoted to the romantic art and architecture of the Medieval era.
From illuminated manuscripts and stunning stained glass to gorgeous Roman-inspired doorways, The Cloisters features over 2,000 pieces of art to enjoy with your partner, a perfect place to enjoy a quiet and intimate day with your loved one.
Often boasting string quartets and outdoor concerts in addition to the wonderful works of art, this Washington Heights location often hosts a variety of events to make for a special evening out together.
---
Things To Do In New York In The Rain
A rainy day is certain to befall us all when we've got plans, especially plans for a date, but don't let that stop you. Check out our list of things to do on a rainy day in New York to ensure your date, whether a first or fiftieth, goes off without a hitch.
Bring Paris to New York with Afternoon Tea in Ladurée
If you have a craving for authentic French macarons, nobody makes as good as Ladurée. This glamorous cafe is adorned by elegant velvet chairs and benches that make for a beautifully elegant afternoon tea which practically transports you to Paris.
If the weather improves, you will have access to a stunning 2,350 square foot tree-shaded garden, an absolute must-visit in the spring with the blooming of blush pink cherry blossoms complementing your patisserie treats and rose macarons. With a beautiful selection of sweet and savory treats, the picturesque afternoon tea at Ladurée is simply lovely.
Visit the American Museum of Natural History
Whether you're fascinated by the centuries past buried underneath our feet or you're mesmerized by the infinite cosmos above, the American Museum of Natural History offers a veritable wealth of knowledge.
From exhibitions depicting wildlife from the other side of the globe to the depths of the ocean to out-of-this-world spectacles giving you a possible existential crisis, the American Museum of Natural History makes rainy days in NYC so much better. Spend hours being the geologist, archaeologist or astronomer you and your date always dreamt of being – and make sure not to miss the fantastic planetarium show.
Get your tickets for the American Museum of Natural History
See a Live Broadway Show
What could be more quintessentially New York than seeing a show on Broadway? There's no better way to see the glitz and glamor of New York than by catching one of its world-famous shows.
Broadway has something for everyone. From loves of the classics like the Lion King and Wicked to those looking for jaw-dropping performances like Phantom of the Opera and Wicked, you'll never run out of titles to choose from.
Fancy a Bit of Shopping? Try Hudson Yards
This trendy spot in Manhattan is a fantastic place to visit not only to get out of the rain but to treat your partner to some luxury goods. Boasting the likes of Cartier, Dior, and Tiffany & Co, Hudson Yards is a top-of-the-line shopping complex located next to the Vessel – the honeycomb-shaped art installation towering over much of the area.
With so much to explore, from luxury goods and high-street brands to delicious food stalls, you can easily wait out the rain at Hudson Yards. If it stops raining, this area is well-situated to explore the Edge Observation Deck and the Highline – perfect for extending your romantic rainy day together.
Witness a Spectacular Candlelit String Quartet Concert
The perfect event for a rain-laden evening which screams romance, watching a candlelit string quartet transports you and your partner away from the hustle and bustle of the city streets and into an intimate world of live music.
These events are held at various locations throughout the city and can last anywhere from 60 minutes up to three hours. If beautifully played classical music isn't your cup of tea, there are also events with classical renditions of pop classics. From Ariana Grande and Taylor Swift to music from your favorite media, the sounds are always changing to make for the perfect rainy date night.
Relax Your Mind, Body, and Soul at AIRE Ancient Baths
A temple dedicated to the relaxation and revitalisation of the body and mind. Melt away the hours within a magical and purely sophisticated spa, complete with a wide selection of massages and exclusive rituals.
Try out the Love Connection 60 package, which is designed to bring you closer and feel the love within a deep state of relaxation.
This Spanish import brings the traditional bath experience to New York with the flagship overseas location of its luxury chain of spas and wellness centers. Within AIRE New York, you will discover a huge three-story space, the basement of which houses a spacious open room of hot, cold, saltwater, and multi-jet baths.
Additionally, you will also find steam and hot stone rooms, and luxurious private red wine baths. Simply one of the most perfectly luxurious things to do in New York in the rain.
---
Things To Do In New York For Couples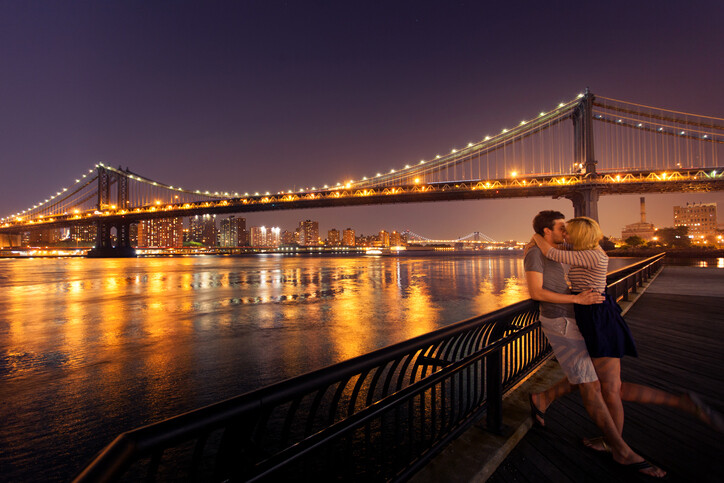 New York is a veritable wonderland of things to do for couples. Whether you're planning on getting engaged or simply looking for something romantic to do this weekend, this city is full of opportunities for romance – and nothing can impress more than our list below. Check out our favorite things to do in New York for couples to really wow their partner.
Meander Through Brooklyn Botanic Gardens for a Delicious Lunch
Wandering through the beautiful botanic gardens hand-in-hand with your partner is one of the best things to do for couples. Whether you decide to bring a hot drink along to stay cozy on a winter's day, or you fancy taking a more leisurely stroll to smell the flowers in the height of summer, the 52 acres of blooms at any time of year are simply wonderful.
Gorgeous woodland, manicured terraces, ornamental grasses, and stunning cherry blossom trees await at varying times of the year. Make sure to conclude your walk with a beautiful meal at the Yellow Magnolia Cafe – with a final course of chocolate torte to transform your daytime soiree into a romantic evening.
Walk the High Line
The High Line is the perfect place to experience nature and public art in the middle of the city.
Built upon a disused freight rail line, this West Side Manhattan walk is free to all, and is filled with plenty of art to discover as you parade down the length of the track. In addition, the art isn't all that'll keep you busy, as there are a great many food and beverage establishments serving delicious sustainable bites to share along your walk.
After quenching your hunger, make sure to check out the park – which is packed full of beautiful architecture, stunning historic landmarks, and great stadium seating with beautiful views for your pleasure.
Hire a Row Boat for a Laid-Back Float on the Water
Sure, bringing a picnic to sit in Central Park can be beautiful, but what could be more romantic for couples than taking a rentable boat trip around Central Park Lake with your partner? With your pick between a gondola and a rowboat, you're certain to find a vessel that suits your needs.
We recommend hiring your boat on a hot summer day so you can both laze on board and soak in the sun, or during sundown to enjoy golden hour reflecting across the water. Whatever time you choose to visit, make sure to bring a bottle of Champagne for that extra romantic dazzle.
Take a Romantic Stroll Across the Brooklyn Bridge
This essential trek across what is known to turn platonic relationships into something more is an absolute must. Take your partner on a beautiful 1.3-mile walk across this gorgeous suspension bridge, a true marvel of 19th-century engineering.
Upon this iconic landmark, you can view the New York skyline in all its grandiosity, with your walk concluding in Dumbo; a fantastic spot for gazing at Lady Liberty and exploring Brooklyn Bridge Park.
Get Ready to Laugh at the Comedy Cellar
If you're looking for a truly great comedy show,  just know that none of the promoters on MacDougal Street is trying to get you into the Comedy Cellar. This prestigious location is so renowned that you really need to be on the ball if you want tickets.
Where blockbuster stars like Jerry Seinfeld and Eddie Murphy made their names, the Comedy Cellar is an intimate experience with the very best comics in New York. Prepare to surrender your phone at the door so you can really enjoy the show, and only sit in the front if you can deal with the risk of getting playfully heckled!
Reserve your spot at the Comedy Cellar
Bring a Picnic to Brooklyn Bridge Park
Whilst we're on the topic of Brooklyn Bridge, why not conclude your walk with a sumptuously packed picnic on the verdant expanses of the proceeding park? With copious bike paths, numerous public art displays and, of course, the stunning view of Brooklyn Bridge, the atmosphere for your picnic will be absolutely divine.
Make sure to pack your gingham blanket in your basket, opt for some homemade dishes as well as some pre-prepared nibbles, and make sure to bring that bottle of wine you've been saving for a laid-back summer picnic on the green.
---
Experience New York With That Special Someone
There are so many amazing and exciting things to do in New York – and you should be able to experience them with someone you love. From fantastic hidden concerts to beautiful Michelin meals, Maclynn is dedicated to helping you find that special someone who wants to enjoy New York by your side.
Would you like to learn more about our award-winning bespoke matchmaking service? Our team is available to take calls and answer any questions you may have about the services we provide – even if you're just looking for a better understanding of what the process entails, and how we can help you find your lifelong partner.