A Unique Date Night at the Getty Center
Housing the extensive art collection of J.Paul Getty, once the richest man in America, the Getty Center is a museum and gardens overlooking Los Angeles, situated just north of Santa Monica. Offering stunning views of LA, beautiful experimental architecture, and a huge selection of fantastic art, the Getty Center is the perfect place for a unique date. With late openings on Saturday evenings, you'll also be able to dine on the garden terrace, watching the sunset over Los Angeles together.
While Getty himself had a great interest in the renaissance masters, the art within the Getty Center spans everything from ancient Greek statues to 20th-century photographs, featuring works by Van Gogh, Gauguin, and Manet. An interesting date night at the Getty Center can offer the right ingredients for stimulating conversation between couples, combining a fetching vantage of the city, experimental architecture, and a varied collection of art spanning both millennia and the globe.
A Romantic Date Night in Descanso Gardens
For a beautiful Friday night date, why not take a stroll through the Descanso Gardens. Featuring over 150 acres of regional and exotic flora, this picturesque space features a variety of stunning walks through paths bordered by roses, lilacs, and camellias. You'll find plants native to southern California, alongside others traditionally grown across the world. You'll also explore a traditional Japanese garden, replete with a teahouse and a stream thriving with koi. On a weekday night, a walk through the Descanso Gardens can be a fantastic way to get to know someone within a stunning natural space.
For an extra special date night idea, each winter the Descanso Gardens are transformed into a forest of light, with late-night visitors exploring the garden in a whole new way, with vibrant lights and kaleidoscopic art installations. Descanso Gardens offers a bewitching natural space for an intimate walk, the perfect romantic date night for couples in Los Angeles.
See the World's Finest Actors at the Geffen Playhouse
Nestled within Westwood, the Geffen Playhouse has for nearly 30 years hosted some of the world's best actors in cutting edge plays and revivals. Luminaries such as Bryan Cranston, Laura Linney, and Ed Harris have appeared in productions, with classic plays such as "Who's Afraid of Virginia Wolff" sitting alongside new productions scripted by up and coming writers.
The Geffen Playhouse is a unique building with a rich and distinctly Hollywood past, formerly a masonic club for UCLA students. At a comparatively small 500 seats, this is an opportunity to see amazing actors within a smaller setting. As an alternative to dinner and a movie, the intimate Geffen Playhouse can be an excellent date idea in Los Angeles, creating a lasting memory together.
The Culinary Delights of Grand Central Market
For an exciting and varied date night, why not eat within the historic Grand Central Market, a vibrant Beaux-Arts location that has been in continual operation for over 100 years. Home to over 40 quality food stalls featuring chefs from across the globe, you'll find established favorites like China Cafe, which has been a tenant for half a century, alongside newer stalls offering bento boxes, currywurst, and wood-fired pizzas. You'll also find a range of bars, coffee shops, and bakeries.
A vibrant, bustling delight for foodies, those looking for an authentic culinary experience in Los Angeles should try a fun date together at the Grand Central Market
A Cute Moonlight Boat Ride in Echo Park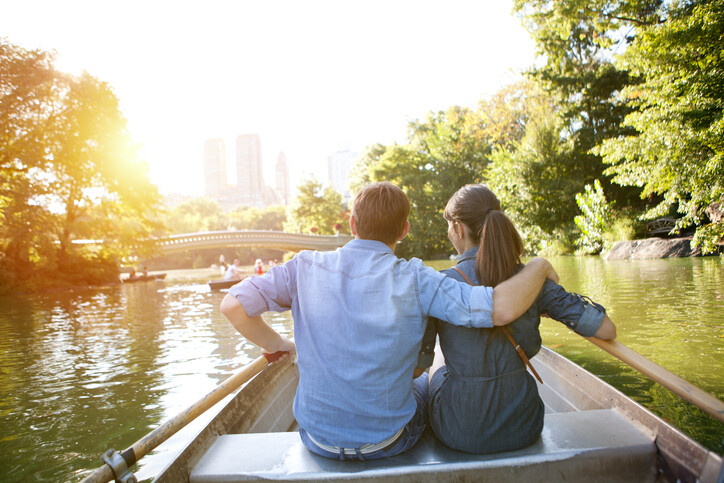 An intimate way to see a different side of an LA landmark, Echo Park's famous swan boats can be booked for an evening sail, the perfect cute date night in Los Angeles. With amazing views of the Los Angeles skyline, the geyser fountain, and the art deco "Lady of the Lake" statue, you'll see it all from the LED illuminated swan boats, perfectly suited for couples. Watching the lights of LA shimmer across the waters from the privacy of your own swan boat could be the perfect end to a romantic date night in LA.
Dine Out in Style at a Michelin Starred Japanese Restaurant
LA boasts two Japanese restaurants that have been awarded the exclusive double Michelin star rating, ideal for those looking for an elegant date night in Los Angeles. n/naka has been operating under the leadership of head chef Niki Nakayama since 2011, serving a 13-course tasting menu built around the principles of kaiseki cuisine. Kaiseki prioritises local ingredients and fine presentation, with n/naka offering a unique combination of Japanese and Californian flavors.
Hayato also offers a kaiseki themed meal for seven lucky diners each night. Secreted within downtown LA, chef Brandon Hayato Go will prepare a sumptuous 14-course meal, served on vintage Japanese porcelain. For both of these restaurants, booking ahead of time is required, with sets of reservations at n/naka and Hayato released a month ahead of time, ensuring that waitlists are never too long. For a truly memorable date night in LA, securing a reservation at a world-class romantic restaurant can make for an evening you'll never forget.
---
Exclusive Matchmakers in LA
Maclynn International offers an exceptional matchmaking service within LA, with an office situated on Wilshire Boulevard. Our expert matchmakers work with clients through every step of their journey, carefully selecting suitable matches from our exclusive membership list. We look to establish long term relationships, prioritising deeper connections between matches, earning ourselves a reputation as a world-leading matchmaker. Whether looking to meet that special someone within LA or across the world, our expert team offers an award-winning service, creating lifelong partnerships for eligible singles. Talk to us today to learn more about our bespoke matchmaking service in LA, our exclusive membership, or our many successful matches.