LaLou
Looking for the perfect spot for a romantic date in Brooklyn? Look no further than LaLou, the modern hotspot for outdoor dining and fine wines. This chic restaurant is the perfect setting for a night of romance and relaxation under the stars. Sip on a glass of their carefully curated wine selection while taking in the breathtaking views of the city skyline. Whether you're a wine connoisseur or simply looking for a cozy night out, LaLou is sure to impress. Come experience the modern charm of Brooklyn's hottest spot for outdoor dining and wine culture.
So Freh
Transport your taste buds to the exotic flavors of Persia with a modern twist on traditional Persian cuisine at So Freh. With an intimate ambiance perfect for a romantic date, this restaurant offers an unforgettable dining experience. Let their skilled chefs take you on a culinary journey through the fragrant aromas and rich spices of Persian cuisine. From succulent kebabs to mouth-watering stews, each dish is crafted with care to ensure a perfect blend of flavors. So Freh is not just a meal – it's an adventure for your senses.
Nura
Nura is a Brooklyn-based restaurant that is getting attention for serving Indian-accented New American cuisine in a lively atmosphere. Its menu is innovative, making use of ingredients which are usually not paired together, and served with well-thought-out cocktails and wines. As an excellent place to dine with a date, Nura's atmosphere is quite romantic, with dim lighting that creates a sense of intimacy. Overall, if you are looking for a new dining experience that combines Indian flavors with traditional American cuisine, Nura is worth checking out.
La Vara
Looking for an authentic and truly Spanish experience in Brooklyn? Look no further than La Vara, the beloved tapas bar that has been taking the city by storm. Whether you're in the mood for croquettes, tortillas, or the latest daily special, La Vara's culinary team is dedicated to bringing the best of Spanish cuisine to your table. The vibrant and convivial atmosphere only adds to the experience, with the warm and welcoming staff making you feel like you've walked into a Spanish home. With such a dedication to quality and warmth, it's no wonder that La Vara has become one of the go-to destinations for Spanish food in the city.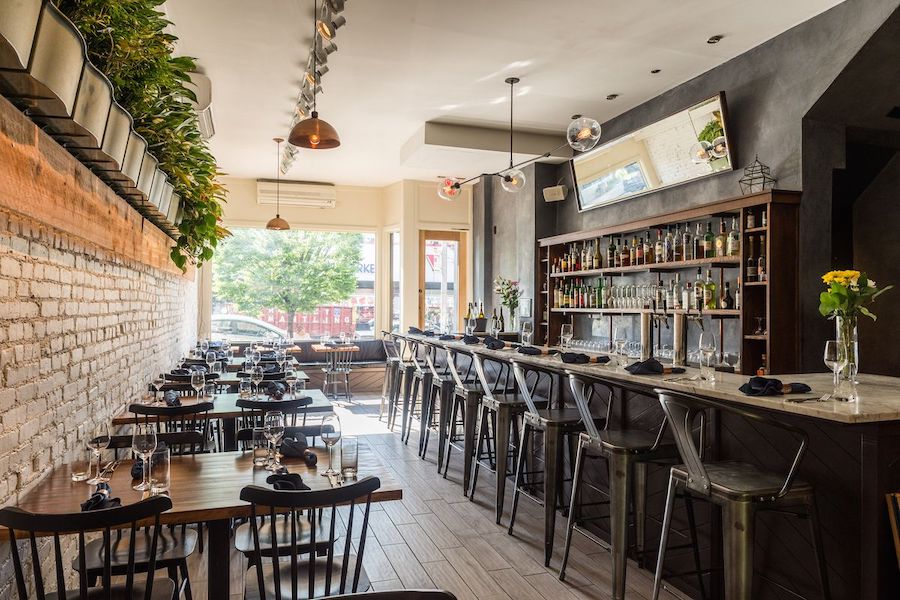 Olmsted
Nestled in the heart of Brooklyn, Olmsted is where modern American cuisine meets farm-to-table dining. But Olmsted isn't just your usual restaurant – it boasts a garden right in its own backyard, supplying fresh ingredients for its seasonal menu. Think veggies, herbs, and fruits all grown with care by the chef-farmer team behind the restaurant! The atmosphere is equally refreshing as the setting – an urban oasis that's perfect for intimate dinners or casual meetings. From appetizers to desserts, everything on the menu is simply mouth-watering, showcasing the best of what the season has to offer. Enjoying your meal while surrounded by lush greenery, it's easy to forget you're in the city. Visit Olmsted and taste the difference for yourself. But be warned, this restaurant is so sought-after, reservations can fill up fast, so make sure to book a date ahead of time to snag a table.
When looking for a modern and memorable date spot in Brooklyn, there is no shortage of options! From LaLou's delightful outdoor dining to Nura's inventive New American cuisine, there are plenty of places for a romantic night out. Plus who can resist the cozy ambiance of So Freh ? Try La Vara's authentic Spanish Tapas or Olmsted's delicious farm-to-table dishes crafted with hand-picked ingredients from their very own backyard garden. No matter which restaurant you choose; with such incredible choices, it is sure to be an unforgettable evening in Brooklyn. After trying these spots, we hope that your significant other now considers you a culinary master! Make sure to follow us on Instagram for more date spots ideas that you're sure to love.