One such hub for an array of fantastic restaurants is Morristown, NJ, a miniature city that encircles "The Green", a historical park situated right in the center. Lively with coffee shops, specialty stores, and of course local eateries, Morristown's downtown has become a favorite destination for its urban modern feel.
We highly recommend visiting one of the restaurants listed below based on our own experience and the atmosphere of each establishment, then taking a walk around The Green for a nice after dinner stroll!

South + Pine American Eatery
While South + Pine has a casual feel to it, that may be exactly what you're looking for. Serving American fare with vegetarian & gluten-free options, it's the perfect choice for anyone looking to dine in a rustic chic atmosphere with beautiful outdoor patio seating options. Located in Morristown's downtown area, it's in walking distance to a variety of shops and right next door to the Mayo Performing Arts Center. Perhaps catch a show and then head right over to South + Pine!
Date Atmosphere: Casual, intimate, rustic, and laidback.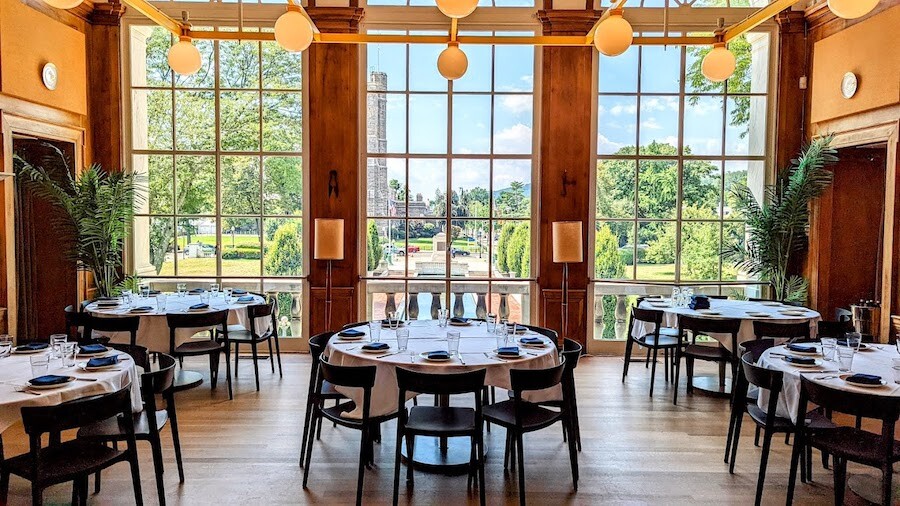 Jockey Hollow Bar & Kitchen
Jockey Hollow Bar & Kitchen is a Morristown classic for fine dining. Named after an area of Morristown's National Historical Park known as Jockey Hollow, this restaurant has a bit of elegance, a bit of history, and a lot of charm. Located in the Vail Mansion, a 1917 landmark, with four dining concepts for guests to explore, it's sure to serve a unique experience whichever option you choose. Featuring an oyster bar and the Vail Bar, Jockey Hollow Bar & Kitchen doesn't disappoint with its locally sourced fare and specialty cocktails.
Date Atmosphere: High-end and elegant yet lively and entertaining.
1776 by David Burke
A contemporary restaurant with views of the Morristown Green and beautiful outdoor dining options, 1776 showcases the modern American cuisine of Chef David Burke. 1776 by David Burke features Topgolf Swing Suite, located on the opposite side of the restaurant which is a great location to practice golf swings, hold corporate events, and other social gatherings such as birthdays and get togethers with old friends. 1776 is known for its specialty drinks, modern and elegant decorations in a fun setting, and its unique and exciting menu.
Date Atmosphere: Fun, trendy, modern, and interesting.
Portofino's Restaurant
Nestled off the busy downtown center, Portofino's is a warm and cozy neighborhood Italian restaurant featuring traditional Italian cuisine which has been a favorite in the community for 30 years. Portofino's is a family-friendly restaurant where you also will be welcomed by family and treated to hearty and tasty meal highlighting seafood as a specialty. Some favorites on the menu include stuffed flounder, spinach ravioli, risotto pescatore, and shrimp scampi.
Date Atmosphere: Cozy, warm, homey, and comforting.
Fig & Lily Garden
If Eastern Mediterranean eats are what you're craving, look no further than Fig & Lily Garden which is a stunning BYOB with a courtyard setting featuring locally sourced ingredients. Fig & Lily Garden has both indoor and outdoor seating options with two different vibes – the indoor offering a darker, cozy, and romantic ambience and the outdoor is vibrant, fun, and lively with garden seating and string lights which transforms the space at night. In the cooler months, this restaurant offers igloo seating, a very fun and intimate experience.
Date Atmosphere: Romantic, authentic, eye-catching, and natural.
The mini city of Morristown has a dual personality, which many of our locals can attest to. It is a relaxing excursion during the day for shopping, lunch, an excellent cup of coffee, and a walk through The Green, and transforms into a bustling, energetic, and fun scene at night numerous exciting bars and beautiful restaurants for every type of cuisine. Whether you would like to go for a lunch date or a dinner date, a casual cup of coffee, or for drinks, Morristown will not disappoint.
If you're simply curious to experience what is so special about Morristown, come on by! If you would like to come and visit us as well, Maclynn conveniently has an office situated in the heart of Morristown and we would love to see you. We would be happy to tell you more about excellent date spots and how to have better dates overall.
Maclynn is a boutique, multi-award-winning introductions agency with offices in New Jersey, New York, California and London. Our dating experts are world-renowned for bringing together highly compatible singles within our vast network of attractive, intelligent professionals, as well as help you plan the very best dates. Get in touch today and prepare for genuinely meaningful dating—just like you deserve.
Interested in finding out how we work?