As a matchmaker at an elite international matchmaking consultancy, making recommendations for characterful and unique date spots is part and parcel of my day job! Trust me – if a meal feels too formal but a walk in the park too casual, what better happy medium for date night than a quality beverage (or three) served up by some of the world's best bartenders?
Sure, The NoMad's neighborhood has seen a much-welcome rise in upstanding restaurants, but locating a gastropub that doesn't reek of postgrad brewskies is harder to come by. This elegant saloon inside the NoMadhotel comes from those behind the similarly stunning Eleven Madison Park,and it teems with lofty pub grub, digs worthy of 007… oh, and $198 cocktails.
There are few better ways to invigorate the mood with romance than drinks overlooking the cinematic views of NYC. And can you even getany
more stereotypically New York than The Water Tower? This cylindrical structure rises intriguingly over the pool of the Williamsburg Hotel, with glorious views of both Manhattan and the East River from the floor-to-ceiling, steel-encased windows. With a back wall covered wholly in murals and interiors decked out with velvet couches and chaises, this is not one to miss.
At first glance, Primo'sis an oxymoron, an inexplicably sexy space modeled on… a 50s diner?
There are glass-block partitions, chrome-edge tables, and the sound of doo-wop reverberates off the black-and-white checkerboard floor. A soda-fountain counter for a liquor-stocked bar and the squeaky plastic booths coupled with jewel-tone velvet banquettes make for perhaps the most characterful diner you'll ever see. Primo's charm is undeniable, and your date will admire your sheer audacity just for having suggested it!
Imagine throwing a garden party at an abandoned farm and you're pretty much imagining Gallow Green. With tattered flags hanging between verdant trellises, bartenders slinging cocktails served by staff in ghostly whites and ironical fairy lights strung haphazardly across the walls, Gallow Green is an experience like no other. The best seats in the house at this rooftop bar, though, are inside an artfully ruined antique railcar, whose empty windows are hung with destroyed lace curtains.
This crazy import from Chicago has obliterated bartenders' tedious habits by creating the only the most grandiose and far-fetched of thrills.
The Aviary thrives off serving over-the-top, totally experiential cocktails in a sweeping 35th-story Olympus which looks like Don Draper art-directed The Jetsons. The impressive barroom does a lot of big things fantastically, including pyrotechnic displays that not only dazzle in presentation but allows customers to see their drink's flavors birthed before their eyes. Research shows that dating under wilder conditions leads to heightened perception of attraction – so what better place to take that special someone and seriously ramp up the excitement?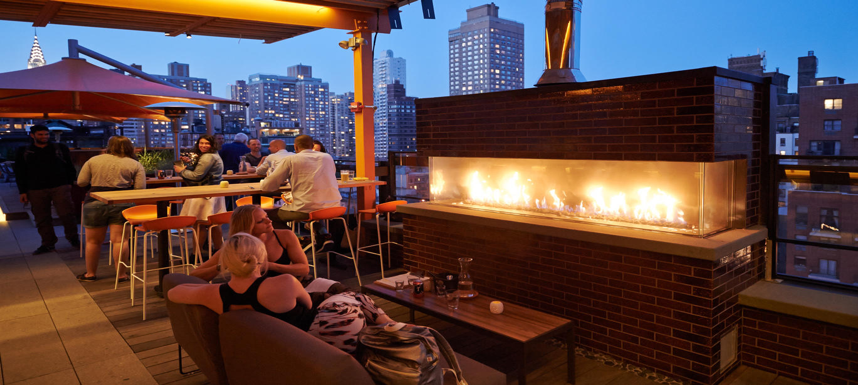 Perched atop Gramercy's Park South Hotel, this superb cocktail haunts boasts stunning views of the Chrysler. The copper-sided lounge is decked out with sunset-orange canopies, cantilevered banquettes and a crackling glass-front fireplace. Snag a seat near the hearth to keep you toasty on a breezy summer night – if the flowing negronis (fortified, naturally, with fruit-forward grappa) haven't warmed you up quite enough. And if you've got the munchies, the bar vaunts an enviable small-plates operation, offering up achiote-marinated shrimp skewers, truffle-parmesan fries and wagyu cheeseburgers crowned with dashi pickles.
Finding love in the Big Apple
Dating in love in one of the most beautiful, vibrant, fascinating cities on the planet is amazing – but you need someone to do it with!
If you're looking for love in New York City, if you're bored of uncommitted city-goers idle bar chat, the same old dates night after night, we can help.
Maclynn International is an international, multi-award-winning NYC matchmaking agency. Our network boasts only the most exceptional singletons, both from New York and all over the world, all of them just waiting for that special someone.
Get in touch today.